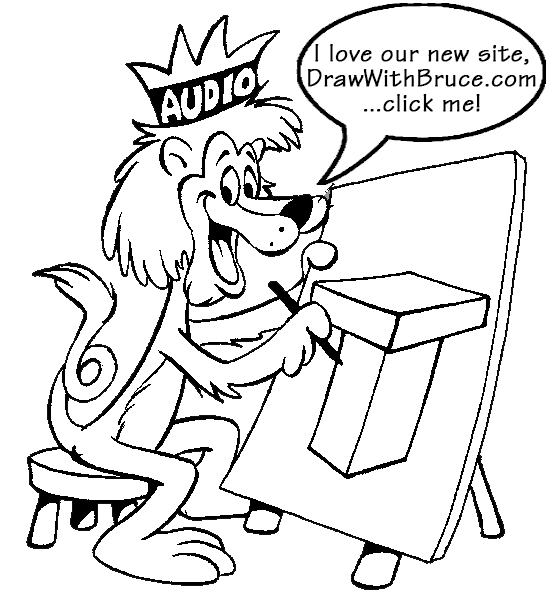 Bruce McIntyre'sAudio-Visual Drawing Program
Please, visit our new web site complete with shopping cart: DrawWithBruce.com
---
Dear Student:
Thank you for your interest in drawing! We are certain you will find this program to be the best way to learn to draw. It has been used successfully by thousands of people for over 40 years. Everyone in your family can learn to draw using Bruce McIntyre's Seven Principles of Drawing.
Drawing is so easy once the Seven Principles of Drawing have been taught that children as young as Kindergartners will be drawing in three dimensions after going through the first lesson a couple of times.
Once you see for yourself how easy it is to draw, you will wonder why drawing is not included in the school curriculums. It is easier to learn than reading and writing. While reading and writing are essential skills they are very complicated and it takes many years before a child can read and write at a level that matches their minds current level of understanding. With drawing, a far greater level of achievement can be reached by children at an early age. Children that know how to draw have a means of communicating their ideas without being restricted by limited vocabulary or spelling knowledge. Once drawing is learned, anything that the mind can picture can be drawn.
Below are descriptions of the books that we have available. They include the Drawing Textbook and other books by Bruce McIntyre. The Special Interest books (Art Elements, Cute Animals, and Flowers & Trees) include step-by-step instructions so that even children can easily follow along. A practice page is included for each drawing. Learning to draw is guaranteed!
Thanks, again. If you have any questions or wish to buy any of the books, please visit DrawWithBruce.com, or use the phone number or e-mail below.
Sincerely,
Kevin McIntyre
---
---
---
---
---
Contact us: (949) 733-3007

© 2022 - Bruce McIntyre
For reseller information, please contact us at: info@DrawWithBruce.com